Matthew Thornton Chapter, NSDAR
Nashua, New Hampshire

The Thornton Burial Site
Merrimack, New Hampshire

The Matthew Thornton Chapter, NSDAR, placed a DAR marker on May 22, 1982, at Thornton Cemetery, Merrimack, New Hampshire, at the grave of Matthew Thornton. This site is recognized by the State of New Hampshire, on the state's Register of Historical Places. Matthew Thornton was a Founding Father of our country as a Signer of the Declaration of Independence.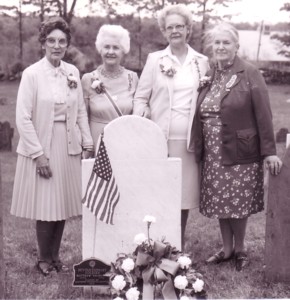 Participants at the dedication of Matthew Thornton DAR Marker included (from left to right), the chapter vice regent, 1980-1983; the state regent New Hampshire, 1980-1983; the chapter regent, 1980-1983; and the state chaplain of New Hampshire, 1980-1983; and other chapter members.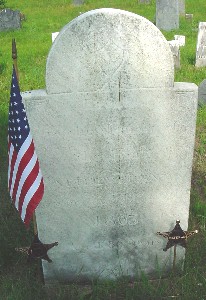 The inscription on Matthew Thornton's Grave gravemarker reads,
"ERECTED TO THE MEMORY OF THE HON'r MATTHEW THORNTON WHO DEPARTED JUNE 24 1803 AGED 89 YEARS THE HONEST MAN"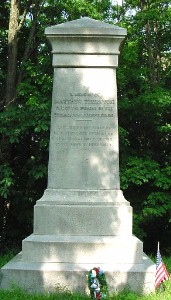 A monument made of Concord granite stands thirteen feet high with a base of six and one-half square feet. The monument is located next to the cemetery and was erected in honor of Matthew Thornton. The inscription reads, "IN MEMORY OF MATTHEW THORNTON ONE OF THE SIGNERS OF THE DECLARATION OF INDEPENDENCE ERECTED BY THE STATE OF NEW HAMPSHIRE UPON A LOT AND FOUNDATION PRESENTED BY THE TOWN OF MERRIMACK"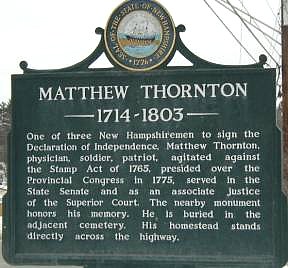 Near this monument at the side of the road is a New Hampshire State Historical Marker.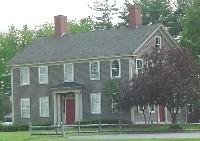 In 1784, Matthew Thornton won legislative consent to acquire the Lutwyche Ferry on the Merrimack River from Sarah Lutwyche. It became known as the district of Thornton's Ferry. In 1789, Thornton purchased a large estate. It included the homestead across the street from the Thornton Cemetery. The homestead was known for many years as the Hannah Jack Tavern; named after Matthew Thornton's wife Hannah Jack. The Tavern closed in 2004. The homestead is currently a Common Man Restaurant.



Hannah Jack's grave is also in the Thornton Cemetery. Her inscription reads,
"HANNAH THORNTON ERECTED IN MEMORY OF MRS. HANNAH THORNTON WIFE OF HONBLE MATTHEW THORNTON WHO DEPARTED THIS LIFE DECr 5th AD 1786 AGED 44 YEARS She desir'd to die, Appea'd Contented She liv'd belov'd and died Lamented"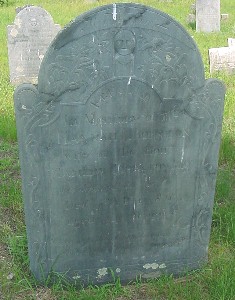 The stones and marker are located in the Thornton Cemetery which is on the corner of Daniel Webster Highway and Greeley Street, Merrimack, New Hampshire. Matthew Thornton's house is directly across the street.



Are you interested in joining the NSDAR? Click here to learn more.
Contact our chapter registrar or contact our chapter regent.

Source: New Hampshire State Organization Daughters of the American Revolution (NHSODAR) State History 1970-1992 page 86 and the Matthew Thornton Chapter History Files. Photos courtesy of a chapter member.



The image above of Matthew Thornton was created by a chapter member. The content contained herein does not necessarily represent the position of the NSDAR. Hyperlinks to other sites are not the responsibility of the NSDAR, the state organizations, or individual DAR chapters. Click here to contact the webmaster.